Humlegården is a property company, and part of the Länsförsäkringar Alliance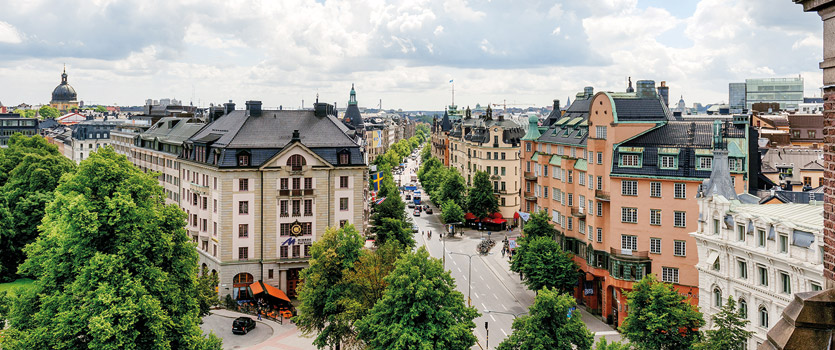 Humlegården Fastigheter AB is a property company within the Länsförsäkringar Alliance. We build, acquire, refine, renovate and manage office buildings in Stockholm. We offer our tenants efficient and flexible office solutions in great locations with first class maintenance.
Humlegården Fastigheter is owned by 19 regional insurance companies and Länsförsäkringar Sak. Risk-taking is to be prudent and form part of the long-term management of the assets of the insurance companies.
The owners invest in Humlegården for primarily three reasons
As an asset class, properties have a stabilising effect on our owners' investment portfolios.
The value-growth trend is less volatile than investments in the stock market.
Stockholm is the most attractive property market in Sweden – generating the prerequisites for healthy total return.
The total return on the net worth is to amount to 8 % annually over an economic cycle. The return is reinvested to achieve set goals; if no investment opportunities are available, dividends will be distributed to owners. The loan-to-value ratio shall not exceed 45-55 %.
The overall approach to property management is important to us. Our focus lies not only on first class maintenance and great service to our tenants but also on a sustainable future. We are passionate about our environmental commitment as well as about exquisite and durable architecture, these are our top priorities. Our dedication to contribute to a sustainable development is of great importance and something we like to share with our tenants.
Property management is all about long-term relations
What is unique is our commitment to all the aspects of management. We always have the long term results in mind and we handle everything from property maintenance to rental and garbage disposal. We care about you and your business - and our care is genuine. As one of Stockholm's largest property management companies and also carrying the confidence of our 3 million customers of the Länsförsäkringar Alliance; we take our job very seriously.